I have had some frames lying round the house for a while, and when Claire at
Claireabellemakes
launched her upcycling competition I thought it would be the perfect excuse to use the frames to make something for my bookshelf as my entry!
Now, I know a few of you decorate your shelves with little bits and pieces - I love adding flowers, lights and Funko Pop figures! - but have you ever thought about framing them? In this tutorial, I'm going to show you how to make a
pretty Box Frame
out of household items.
YOU WILL NEED:
A cereal box
A large sheet of patterned paper
A photo frame
Scissors / Craft knife
A ruler
A Pencil
Strong tape
Glue
Adhesive strips
Tin foil
HOW TO...
Step 1: Flatten out the cereal box and using the inside edge of the frame as a template, draw a rectangle in the centre of one of the large sides.
Step 2: Cut out the rectangle to create a window.
Step 3: Lay your paper over the opposite large side, and mark with a ruler where the folds will be. Use your scissors or craft knife to lightly score the paper where it should fold.
Step 4: Flip the box over and attached the paper to the cardboard with a very small amount of glue in each corner.
Step 5: Rebuild the box, inside out! Use tape to secure the joins and edges.
Step 6: Press a small amount of tin foil into the bottom of your box. This is especially handy if you will be displaying flowers/plants which can get messy over time, as you can just whip out the bottom and replace it!
Step 7: Attach adhesive strips to areas where the back of the frame will come into contact with the box.
Step 8: Press the frame onto the strips.
Step 9: Decorate! I rolled some craft paper around a small glass to create a vase for some flowers, but you can experiment! Why not create a little Funko Pop diorama?! (Yes this is just an excuse to get Sam and Dean on the blog hehe)
I think it looks great on the bookshelf, but you could attach it to a wall, add it to a mantelpiece or even pop it on your desk for a quirky way to display office plants and succulents!
I hope you enjoyed this little tutorial. What do you think would look good on a bookshelf?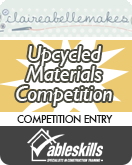 This is a competition entry to the Able Skills upcycling competition.